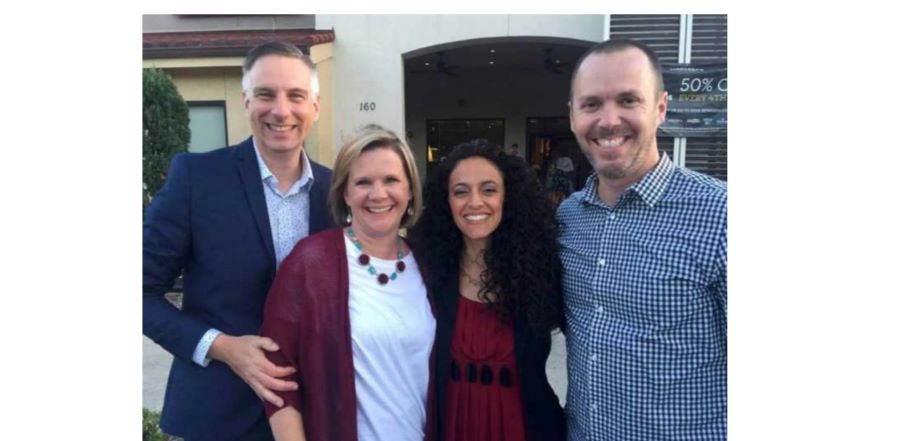 Sending Stability to Foster Families
Currently, there are over 400,000 foster children in the United States with more than 100,000 children being adoptable. Statistics show that 25,000 of them will age out of the system and 51% will end up unemployed. * There is an urgent need for change in the foster care system. Steve and Sandra Hogue**, U.S. Missions missionaries, and missionary candidates Ted and Angie Stackpole** are working to remedy the issues that occur in the system.
The Hogue and Stackpole families formerly committed themselves to serve at their home churches: one for twelve years and the other for twenty-two years. Then God intervenes their carefully laid out plan and says, "I have a new plan for you." Just a few years after God's redirection in their lives, the Hogue and Stackpole families are called to resolve the foster care crisis in America with the church as the solution.
Steve Hogue worked as the children's pastor of Calvary Christian Center in Ormond Beach, Florida for twelve years. He and his wife, Sandra, served the congregation and until God stepped in to change their ministry focus. They work to equip churches for orphan care ministry, so they can wrap around and support foster families. The Hogues strive to bridge the gap between the church and the foster care crisis.
So, what exactly is the Church's role?
Working with COMPACT Family Services, the Hogues travel throughout the southeastern U.S. to call churches to develop foster care ministries. The congregation acts as a family to provide resources and care to families who are fostering children. The church recruits people to help with transportation, food, guardian care, babysitting, respite care, and partner in prayer with them. In that way, the church is indeed the answer.
On Orphan Care Sunday (2nd Sunday of November), Steve and Sandra spoke at First Assembly of God in Palatka, Florida which was pastored by Ted Stackpole at the time. During the service they shared that the church is the solution to the foster care crisis. The church ended up being one of the first churches to support the Hogues in their ministry. First Assembly eventually had a large group of people in the congregation who wanted to help foster families. However, Ted was unsure how to proceed. He reached out to Steve in a phone call, "I need your guidance. I am not called to foster care but people in my congregation are. I need you to help me lead them. I see the need to help and care for orphans now."
Through the guidance given by a fellow pastor and the support of Steve and Sandra Hogue, the Stackpoles succeeded in building a thriving community to fulfill the needs of foster families. Even though Ted had initially told Steve that he was not called to foster care, he and Angela have fostered twelve children. Since then they have adopted six children out of the foster care system, making them a family of thirteen. After 22 years at First Assembly, God directed the Stackpoles to begin a new chapter of ministry as U.S. Missions candidate missionaries working as CompaCare representatives. Once the Stackpoles raise their missionary budget, they will share CompaCare's 5-2-15 program throughout Florida. They guide churches to recruit five foster families. They then train two family advocates who manage fifteen church volunteers who will resource the needs of foster families.
Steve says, "Working with Ted has been great! He is very focused, and we complement each other in our work."
Ted explains, "We honor Steve and Sandra for the hard work they've done in Florida in laying the groundwork for churches to start foster care ministries."
This team is following God's call on their lives to help every foster child have a life full of quality, stability, validation, and love through a community of care in the local church.
* http://hoguecrew.org/orphanstatistics/
**U.S. Missions missionaries serving in foster and orphan care are now assigned to Chaplaincy Ministries.