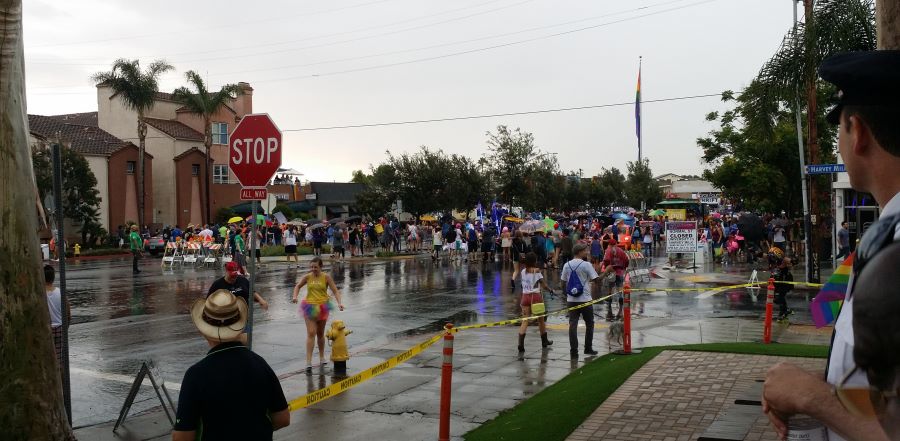 Respond With Love
For the last 19 years, the San Diego Gay Pride Parade has started in front of U.S. missionary associate Jack Sampier's church. Every year Pastor Jack opens the doors of Hope Restored Church for parade participants to use the water fountains, restrooms, and to take a break from the summer heat. Often there will be a worship team in the church playing worship songs to foster a welcoming environment, and a Chi Alpha team standing by for anyone who has questions. Last year three parade participants came to the altar during worship. This simple act of kindness makes the church accessible for an initial connection with someone who does not know Jesus.

Missionaries ministering to the LGBTQ+ community hear a cry for respect, validation, and love. When we see the heart of LGBTQ+ people, we see a broken, hurt, and angry community.

Broken: Many LGBTQ+ people struggle with identity issues. Because of these struggles they often live without the sense of belonging. As a result, they feel strong pangs of loneliness.

Hurt: The LGBTQ+ community is a huge target of bullying and discrimination. Because of their lifestyle, they often feel punished and ostracized in various ways.

Angry: This community feels resentful of how they have been treated. They feel they are not treated with adequate respect. This hurt and anger fuels their demand for equality and change.

This is a large community full of brokenness, sadness, and anger. The question must be asked: where does the Church step in? How should the Church address this unique group of people?


-We respond with love-
When we love someone, it does not automatically mean we accept every lifestyle choice they make. We love them because Jesus teaches us to have a burden for people. Because we were created in His image, we must be loving towards others.

We must remember to be tactful and respectful towards everyone, even when there is a difference of opinion. Embrace community. Be a friendly presence in the life of an LGBTQ+ individual. The Holy Spirit then leads us to share the Gospel in God's timing. U.S. missionary associate Jack Sampier is a true example of how to be that friendly presence to the LGBTQ+ community.
Take a step of faith. Reach out to someone who needs God in their life. Join us in prayer over this hurting community, and let us share His word with the LGBTQ+ community.