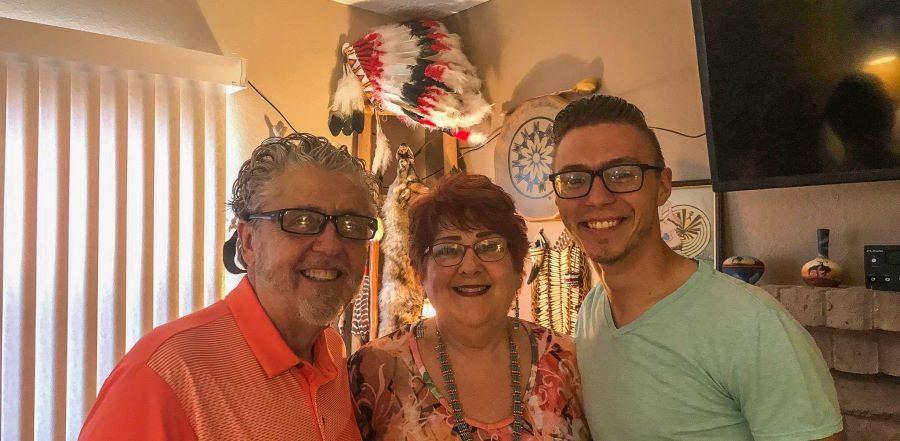 Reaching the Reservation
It happened on an eventful night at church camp in Indiana. Steve Clindaniel was an angsty teenager who knew he was meant to be a dentist. Year after year he would watch his friends come home from camp and proclaim their call to ministry. Steve knew that would never be his experience. But his calling to dentistry was not in God's plan. He suddenly heard the words, "Preach my word! Be my minister!" Confused, he went up to the alter for prayer and the preacher said the same words and then inquired, "God is calling you to ministry, isn't he?" Since that night, Steve has surged forward in his calling to minister to Native Americans.
Every weekend, Steve and Beverly travel to one of the fifteen Native American Assembly of God churches and help as needed. They build relationships, fellowship, and immerse themselves in the community. Additionally, they assist the local pastors with various tasks and projects. He asks pastors and churches, "How may I serve you? Tell us how we can help you to improve your ministry." The churches responses have been positive and thankful.
In the many years of ministry to Native Americans, Steve and his wife Beverly have influenced lives all around the nation. They have led teams of people to minister to others on the reservations in Arizona, Montana, and Wisconsin. Then in 1993, Steve became a senior pastor of a church in Nappanee, Indiana. Within a few years serving in the congregation, Steve met a young boy named Seth Fincher who was full of energy and loved to be in church. At that time, neither Steve nor Seth knew what God had in store for them together many years later.
For the ten years that Steve pastored this church, Seth had always looked up to Steve because he noticed how great he worked with kids. Once Seth graduated from high school he eventually stepped into a youth pastor position while coaching high school wrestling. One Saturday afternoon, Seth received a call from Steve out of the blue. Steve explained that he had an opportunity for someone to work in youth with him and Seth came to mind. At first, Seth was uninterested but still felt he should pray with him. By the end of the week, Seth had received confirmation through several individuals to serve Native Americans in New Mexico. As one of our youngest missionary associates, Seth paves the way for the next generation in ministry. When he recounts his first experience in ministry he recalls saying, "This is where I belong. This is my heart." Seth sees himself as a consultant for youth ministry. He partners with churches alongside Steve as a catalyst so that he can assist them in launching youth ministries. He helps churches start their youth groups and leads them for around 1-3 months or until a member of that church takes over. From there, he becomes a resource for them. Seth says, "My favorite part about working with Steve is continually getting to know him. Since I was a kid, I've loved seeing his heart for God and the Native people because his passion is very clear." Steve says of Seth, "Seth is a young man who has successfully fulfilled God's calling. He is never afraid to take on a task or pursue something that stretches him. It is an honor to work with him as he helps reach our Native people."
Through their partnership, Seth, Steve, and his wife Beverly, have developed a new ministry in New Mexico: The Native American School of Leadership (NASOL). For seven months out of the year, Steve and Beverly host classes and licensing opportunities to congregation members who are seeking to step into leadership positions at their local church. Some of the classes include:
How to Raise a Christian Family
How to Help My Pastor Fulfill God's Vision
During the time that is not focused on NASOL, Steve and Beverly will also host a yearly leadership conference. Native American churches all around New Mexico are invited for a three-day conference to develop leadership skills for individuals in the beginning stages of serving their church. Here, Seth's role is to help the class flow in the C.L.I.C.K Club (Christ Living In Cool Kids), bring assistance to Steve, and to lead youth to the conference for training. One conference attendee said, "I did not feel adequate for training. After Steve and Seth's leadership conference, I feel that the classes helped me become a real leader." By resourcing their community, Steve and Seth can share God's vision with others around them. In addition to partnering with fifteen Native American churches, Steve and Seth partner with churches across America. They are called to provide opportunities for mission teams to visit New Mexico to experience the mission field firsthand. Interested in learning more? Contact Steve or Seth today:
Contact Steve: stevenclindaniel@usmissions.org
Contact Seth: sethfincher@77.usmissions.org
Need to Natives: https://bit.ly/2n8hWub